Authorised Representative contract signing at SMM 2016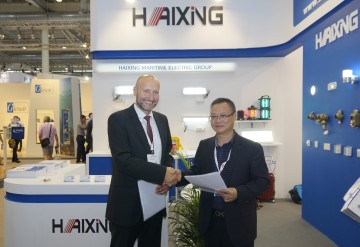 At the SMM 2016 in Hamburg, Haixing Maritime Electric Group Co.,Ltd. from China and SEACOTEC have signed a 5-year contract for the Authorised Representative Services required by new MED Directive 2014/90/EU.
Mr. Fu (Managing Director of Haixing Group) and Dr. Surma (Co-Founder of SEACOTEC) have agreed on a five-year service contract and in addition discussed various opportunities how SEACOTEC can support the Haixing Group in the future.
Based on the new Directive, non-EU based manufacturer of MED approved equipment have to nominate an Authorised Representative which is located within the EU.
SEACOTEC is offering a wide range of support concerning the Marine Equipment Directive (MED), e.g. consulting services during the certification process of a new product or suport during a prolongation of an existing certification.
Haixing Maritime Electric Group Co., Ltd. is a well known manufacturer of marine lights and electrical appliances located in Whenzou, China.