JÜNGERHANS Fleet fully compliant with EU MRV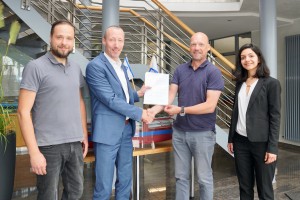 After verification of the 2018 emission reports (by RINA) SEACOTEC handed over the Documents of Compliance to Jens Köster (Fleet Operations Manager) and Jochen Specken (Nautical Inspector).
Both highlighted how hassle-free their way to compliance was:
"Due to SEACOTEC's effort and permanent communication with our crews the quality of event reporting has dramatically improved. We have achieved a data quality and transparency that left no questions open for the verifier."
"We could focus on our main tasks as Fleet Managers instead of dealing with a huge amount of data in preparation for compliance with EU MRV. We did not have any issues with the verifier regarding the emission data we provided."
Based on the experience gained through EU MRV, JÜNGERHANS MARITIME SERVICES GMBH & CO. KG as well as JÜNGERHANS HEAVY-LIFT-FLEET SERVICES GMBH & CO. KG have recently extended the cooperation with SEACOTEC to the preparation of all documents required for compliance with IMO DCS. 
In case you want to improve your data quality or you have challenges in creating your emission reports, please do not hesitate to contact us.